We have cleared the medical industry standard. 
We meet the requirements of the Japanese Pharmacopoeia.
Our facilities meet the following environmental conditions.
Density of insoluble particles
(particle diameter 10μm over)
(particle diameter 25μm over)

under 12 particles / 1ml under
 2 particles / 1ml

Density of bacteria
under 0.1 cfu / 1ml
Density of endotoxin
under 0.2 EU / 1ml
BESPACK's advantages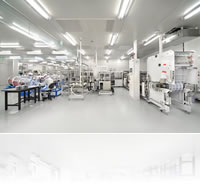 All processes such as making film, making bags, and printing are performed in our cleanroom facilities, preventing products from including different matter such as harmful particles.
High precision Inspection Instruments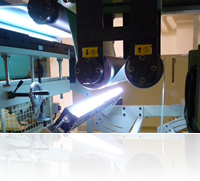 Foreign Matter Inspection Instrument
Enables to precisely inspect foreign matter on a sheet.
Vacuum Pinhole Inspection Instrument
Checks pinholes on a molded bag. It can inspect a smaller pinhole than an air-pressure-type instrument
Port Washing Instrument
Washes micro dusts and microbes on the port part of product.
Performance
BESPACK have been dealing with many pharmaceutical companies, accumulating abundant experience and performance. We produce multiple-chamber containers, single-chamber containers, and medical apparatus.

Example: Medical bag (capacity: 50mL - 1000m l): 
PE can be sterilized at 110 ℃. PP can be sterilized at 121℃.
We also provide composite material bags.